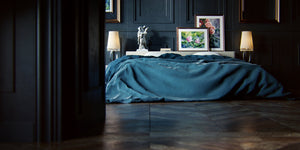 Questions & Answers
How long does it take to deliver Mattress and/or Bed?
All beds and mattresses are made to order and we aim to deliver within 14 days of receiving your order. Once the order gets out of the production line and into the distribution line , Your order status will be updated along with being given a tracking ID for you to track and have more precise information regarding the delivery of your order.
Guarantee & Warranty
In the unfortunate event you experience manufacturing issues - such as faulty materials or workmanship - we offer a 1 year guarantee depending on the product you've purchased. This includes mattresses, upholstered beds and headboards purchased
Are all beds and mattresses made in the UK?
All of our mattresses, upholstered bases and headboards are made in the UK and tested to British and European standards. Each bed and mattress is put through rigorous testing to ensure we exceed British standards. We are so confident in the quality of our products we offer a full 1 guarantee on all our beds and mattresses..
Orders and Returns
f you are not happy with your purchase for any reason you can return it to us and we will refund you with the amount paid for that item less any reductions which may be applicable. Returns must be notified to us in writing within 14 days of the delivery date and items must be unused, free from defects and returned in their original packaging. Due to hygiene reasons we are unable to accept back any mattresses that have been removed from the original packaging. Once we have received any returned items and checked them we will refund your money, less any shipping costs.
Returns Procedure
Please contact us within 14 days of delivery to let us know you wish to return any items. We will need to know your order reference, the model name and size of the model you are returning and the date you ordered. You may deliver the goods back to our warehouse or alternatively we can arrange collection at a minimum cost of £50 which we will deduct from the refund. Please note this returns policy does not apply to items that have been specifically tailored to your requirements or special order items which may be subject to a restocking fee of 50%.
What exactly happens after ordering?
Once the order has been given , it is then processed by our processing team and placed into the production accordingly , the prodcut , once out of production is transported to our partner distribution centre which then delivers it out to our customers accordingly, . The order status is then updated by providing our customers with a tracking ID which they can use to keep a track of their order and arrange to be at home at the time of delivery , Moreover the customers are also contacted prior to delivery booking in and being informed of their time slots as well.
What safety tests do you perform your products?
As home to one of the UK's most trusted bed brand, we believe passionately in producing safe and quality products. All of our mattresses are regularly and rigorously tested for durability, pressure and temperature control . Our testing team also carry-out a range of comprehensive safety tests to ensure we meet the highest UK targets, including important flammability tests for your peace of mind.
Are your beds flammability tested?
UK law requires manufacturers to ensure that foam used in their products undergoes a fire-retardant treatment in order to comply with life-saving safety regulations. Detailed tests are carried out across all of our products to ensure our customers purchase products which are not only of outstanding quality and great value, but are totally safe in their homes.
Do memory foam mattresses make you warm?
They can do for certain individuals who may be naturally warm bodied. However, nowadays the best memory foam mattresses are supplied with a special Coolmaster cover, which has radically reduced the problem.
How long does the delivery take and how much does it cost?
We deliver to most UK addresses. Please note regrettably we are unable to deliver to Scottish Islands, Ireland, Isle of Man, Isle of Wight and the Channel Islands. we will contact you to arrange delivery once your order is in stock. Order today to take account of our free delivery offer to most UK addresses.